My sister Shelby has moved into my house. I understood that when you add a new person some disruption to a household occurs, but I had no idea . . .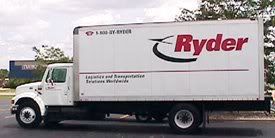 The good news is that by the time I went over to her now-former house to pick Shelby up, she had the giant Ryder truck loaded and ready to go. Since her ex-husband was paying for the move, she hired the youth group from her church to pack her up and load the truck, and she paid them well for it with the blank check Art (her ex) gave her. I think it boiled down to a ski trip for the entire youth group in January.
It took us what seemed like forever to drive from Roanoke to Memphis with the giant Ryder truck lumbering slowly down the interstate, and me following in the station wagon. Part of what made the journey so slow was the speed at which she was comfortable driving the giant Ryder truck, and part of it was due to the giant bottles of water she would purchase (and subsequently drink) every time we stopped. And we had to stop a lot . . . because of the giant bottles of water. But I shouldn't complain; after all I could have been the one stuck in the truck.
I'm not being judgmental, but one of the reasons Shelby may have had for drinking so much water and having to stop so much may have been the truckers. The reason she had to stop at truck stops was because, she alleges, they have nicer rest rooms. The reason she had to wear indecently short shorts for a woman her age was because truck stops have truckers. Now I
would
admit that Shelby has nice legs, but apparently she did not want confirmation from
me
. The friendly trucker drivers told Shelby everything she wanted to know each time she stepped down out of the big Ryder truck and languidly stretched the weariness of the road out of her taught muscles. Divorce is hard on a person, and it doesn't hurt a body to accept a little positive reinforcement now and again.
There was a lot of furniture in that van. And now it's mostly all in one bedroom and a bathroom in my not-so-large house.
You won't believe how she's got that furniture arranged. She's got her queen-size bed pushed into a corner at the far side of the room and has about 14 inches on the right side of the bed to get in and out. She has two large dressers stacked one on top of the other and uses a footstool, a chair, and a "fairly" sturdy table as a ladder to get into the top drawers of the top dresser. Right beside the stack of dressers is a computer desk that also houses her television, her good china, silverware, and stemware. Because it won't fit on the computer desk, the printer is located across the small bedroom on the dining room table; the printer is beautifully flanked on either side with ornate sterling silver candelabra. Thank goodness the closet in that room is large--because four of her six dining room chairs are squeezed in along with a lot of clothing and three big boxes. The other two chairs contribute to the furnishings of the bedroom, one at the computer, and one at the dining room table.
You would think in a room that crowded with furniture, a woman would leave her nick-nacks packed in a box, wouldn't you? But a lot of them are proudly displayed on the several end tables in the room. Others that are not in her bedroom have been placed on the several end tables that now are crowded into the bathroom under a large sofa-sized painting of a serene farmhouse and cows.
Some people don't believe in storage facilities.
Cyndi